Zulat Founder Zehava Galon's Remarks at Solidarity Festival's Opening Ceremony (12 December 2022)
"I am very happy to be here tonight at the Solidarity Festival, the only festival in Israel dedicated to activism and human rights. I would like to start by congratulating its founder and director Danny Wilensky, its artistic director Gidi Avivi, and the entire staff.
At a time when we see the emergence of an anti-democratic government that regards minorities as a fifth column, the Left and civil society organizations as traitors, and religion as the cornerstone of patriotism, a government that has declared all-out war against Israel's democratic core and the rights of anyone who does not submit to Jewish supremacy, a government that views the Supreme Court as the enemy and apartheid as its goal, it is precisely at such times that participation in a festival that shows groundbreaking films symbolizes the spirit of freedom, the clear voice that fights for human rights, and the pursuit of equality and a better future.
Countries around the world that are going through a wave of neo-fascism, religious extremism, and oppressive regimes are confronted by a great human spirit emanting from the idea that all human beings are born equal. No Kahanist, fascist, racist homophobe, or chauvinist will label people who are different, nor filmmakers, or will extinguish this spirit!
This is also the place to tell Israel's ambassador to India, who reprimanded filmmaker Nadav Lapid for criticizing an anti-Muslim Indian film, thereby apparently failing to meet the expectations of the Netanyahu-Modi nationalist-fascist alliance: You are no one to brand, reprimand, or sanction Israeli citizens! Moreover, we will not be silenced! We will not despair or lose hope, and we will continue to fight, primarily for the future of our children and coming generations. And, in the spirit of the rallying cry of Poland's Solidarity movement: "The winter is yours, but the spring will be ours."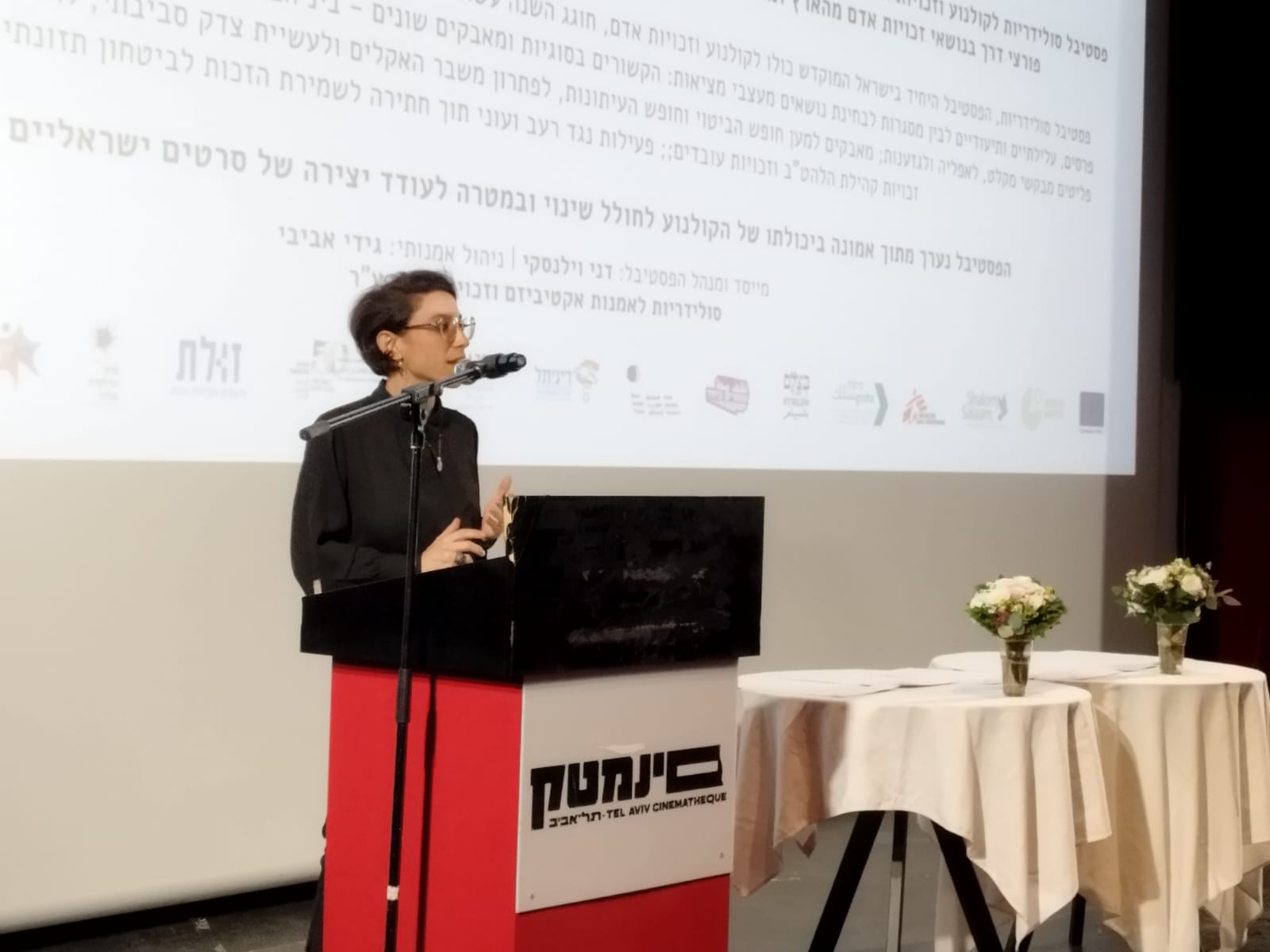 Zulat's Executive Director Einat Ovadia's Remarks at the Awards Ceremony (8 December 2022):
"I am very happy to stand here tonight, alongside a representative of the Shulamit Aloni Foundation, to present the Zulat Award to the young creators of the Solidarity Festival. I would like to congratulate Danny Wilensky, the founder and director of the festival, a man committed to the struggle for human rights and against the occupation, and its artistic director Gidi Avivi.
The State of Israel is in the throes of the most serious democratic and social crisis in its history. After five election campaigns, millions of democratic camp voters feel horror and shock at the results of the latest round. The reports about the make-up of the injurious next coalition arouse hard feelings among millions of Israelis, who are anxious for the fate of the country and fear that liberal democracy is on the verge of collapse.
Anti-democratic right-wing forces and ultra-conservative think tanks have been acting in Israel in recent years to demolish liberal democracy, assail our personal freedoms and liberties, and delegitimize disadvantaged groups such as women, Arabs, and the LGBTQ community.
Lately we started hearing intimidating slogans against any expression of opposition to the new regime. The Right is waging an unprecedented attack on the calls to take to the streets to demonstrate, and yesterday we were informed that Ben-Gurion University banned a performance by Arab female singers on campus "for fear of incitement." Freedom of expression, protest, and creativity are under attack and these rights are becoming illegitimate. Opponents, protestors, and critical artwork will all be labeled seditious and traitorous. Tomorrow a demonstration could very well culminate in violent arrests and a film could very well be banned just because it expresses a critical opinion.
Freedom of speech is the basis for strong civic participation in the political game. The ability of citizens and artists to express their opinion and criticize the government is the lifeblood of a liberal democratic state. And we at Zulat do not intend to sit quietly, we will put up a fight! We will make every effort to block draconian proposals that emasculate democracy and seriously harm human and civil rights. We will show up for every debate in the Knesset, we will strengthen the opposition, we will provide information and data, and we will strive to thwart any initiatives to crush democracy, the judicial system, and civil society.
It is a great honor for me to present this award today, an award that signifies the strengthening of freedom of expression, creativity and art, the entrenchment of our freedoms, and our steadfast support for human rights and equality."